PENGARUH KUALITAS PRODUK, HARGA, PROMOSI DAN LOKASI TERHADAP KEPUTUSAN PEMBELIAN ESKULKUL DI KEDAI ESKULKUL BOCIL, BOGOR
Keywords:
Kualitas Produk, Harga, Promosi, Lokasi, Keputusan Pembelian
Abstract
This study aims to determine the influence of Product Quality, Price, Promotion, and Location have a partial or simultaneous effect on the Purchase Decision of Esckul Bocil. The approach used is quantitative using multiple regression analysis. Based on the results of the analysis, it shows that price and location variables partially have a significant effect on purchasing decisions. Meanwhile, the variables of product quality and promotion partially have a significant effect on the purchase decision of Eskulkul Bocil. Based on Test F with a significance level of 5%, it shows that product quality, price, promotion and location have a simultaneous effect on the purchase decision of Eskulkul Bocil. The coefficient of determination (Adjusted R Square) of 0.406 means that 40.6% of purchasing decisions can be explained by variables of product quality, price, promotion, and location. The remaining 59.4% was explained by other variables that were not included in the research model.
Downloads
Download data is not yet available.
References
Agnes L.,P.,W, Lisbeth, M & Jantje, S Jurnal EMBA Vol.2 No.3 September 2014, Pengaruh Kualitas, Produk, Harga, Promosi dan Lokasi Terhadap Keputusan Pembelian Di Bantenan Center Sonder Minahasa.
Depkes RI. 2013. Riset Kesehatan Dasar. Jakarta : Badan Penelitian dan Pengembangan Kesehatan Kementerian Kesehatan RI.
Kotler, P dan Amstrong, G. 2008. Dasar-dasar Pemasaran. Edisi 11. Penerbit Indeks, Jakarta.
Kotler, Philip dan Kevin Lane Keller,. 2018. Manajemen Pemasaran. Edisi Ketiga belas. Jilid 1. Terjemahan oleh Bob Sabran MM. Erlangga, Jakarta.
Marvel Werung Dolina L. Tampi Joan V. Mangindaan Productivity, Vol. 1 No. 5, 2020 e-ISSN. 2723-0112 Citra Merek Smartphone Samsung terhadap Keputusan Pembelian Mahasiswa Universitas Sam Ratulangi Manado
Syukardi dan Chandrawatisma. 1008. The Analysis Of Customer Satisfaction Of Corned Pronas Product Of Pt Cip, Denpasar, Bali. Jurnal Teknologi Industri Pertanian, 18(2). https://journal.ipb.ac.id/index.php/jurnaltin/article/view/4756
Tjiptono, Fandy. 2008. Strategi Pemasaran. Edisi Ketiga. Bumi Aksara. Yogyakarta
___________. 2015. Strategi Pemasaran, Edisi 4, Andi Offset, Yogyakarta.
Widiwati, A. dan Ruslan, M.R. 2019. Pengaruh Citra Merek Dan Harga Terhadap Keputusan Pembelian Air Mineral Pada Merek Raja Iro di Makassar. Jurnal Bisnis & Kewirausahaan, Volume 8, No. 1, 2019.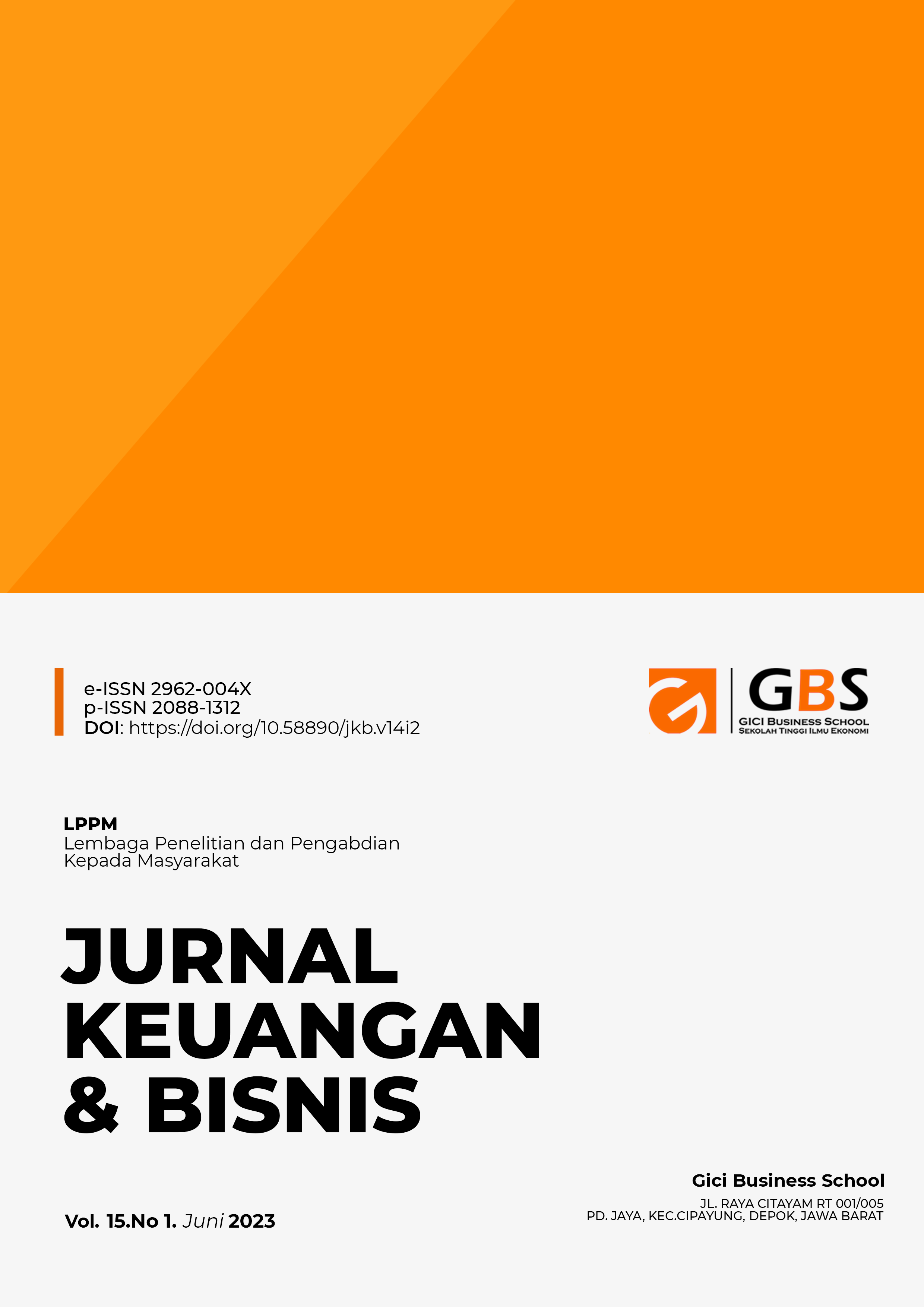 Downloads
How to Cite
Dianawati, A., & Inriyani. (2023). PENGARUH KUALITAS PRODUK, HARGA, PROMOSI DAN LOKASI TERHADAP KEPUTUSAN PEMBELIAN ESKULKUL DI KEDAI ESKULKUL BOCIL, BOGOR. Jurnal GICI Jurnal Keuangan Dan Bisnis, 15(1), 10–19. https://doi.org/10.58890/jkb.v15i1.66